Are you looking for effective sleeping bag storage ideas? We hear you. Sleeping bags are expensive pieces of gear that need to be treated gently if you want them to last for years. This is why today, we'll be sharing with you a few yet highly effective sleeping bag storage ideas.
It doesn't matter if you're more of a weekend adventurer who uses your sleeping bag to go camping every week, or you use it for a once-a-year backpacking trip; it's essential to know how to properly store your sleeping bag you want to maintain its quality. It is no secret that storing sleeping bags can be intimidating especially when you have no clue where to begin. After all, you do not want to mess up your investment.
When it comes to storing your sleeping bag the right way, you must know a few tips and tricks to do a good job. Doing your research is always the smart thing, so continue reading as we show you some different sleeping bag storage ideas.
Sleeping Bag Storage Ideas FAQs
Why is proper sleeping bag storage important?
Proper sleeping bag storage is essential, but it is often overlooked. Storing your bag properly will prolong the life of your bag and ensure that it keeps you warm and cozy for many years.
How do you store sleeping bags?
The best way to store a sleeping bag is to hang it up on a hook in a dry closet. Avoid musty basements or attics. You can also store it in a large breathable (cotton or mesh) bag in a dry place that will allow it to maintain its loft. Never put a sleeping bag in a plastic trash bag or a non-breathable storage container.
Is it OK to store down a sleeping bag in a stuff sack?
A sleeping bag should be stored at home outside of its compression stuff sack to keep the loft (and thus the warmth of the air-trapping fibers). A stuff sack is for travel or backpacking purposes only; whenever your bag doesn't have to be in it, let it breathe and unfurl.
Some sleeping bags indeed come with a stuff sack, but it's not intended to be used for long-term storage.
How do you store a sleeping bag and tent?
It is recommended to store tents outside of stuff sacks, either loosely rolled or hung up in a cool, dry place away from any UV light. Your sleeping pads and bags like nothing more than to be hung vertically. This keeps insulation from matting or clumping together, lowering its heat-trapping capabilities.
How long do sleeping bags last?
If you maintain it properly and store it correctly when not in use, your sleeping bag should last for at least five years. If it's made of high-quality materials with strong seams and stitches, that number can be increased to over ten years. Top-end sleeping bags can last you up to 15 years with proper care.
How long can a down sleeping bag stay compressed?
If you stuff it in the sack, it gets compressed every different way and keeps up longer. I would not worry about it; hang it up when you unpack it. Also, down sleeping bags are much more sensitive to compression; if you have hollow fiber or such, you are OK. Ten days, no problem.
Do sleeping bags expire?
Sleeping bags do not have an expiration date, but correct care can maintain quality for years. That's why sleeping bags often come with a large stuff sack; they need to breathe.
Is it wrong to keep a sleeping bag compressed?
When you compress your sleeping bag, you compress your insulator, making it less effective. On trail, when you're pulling your bag out every night, compression isn't a big deal, but when you're storing your bag in its stuff sack for months on end, you are doing real damage.
What is the purpose of compression sacks?
Never store a sleeping bag in a compression sack for long periods, or it will lose its loft. The compression sacks are meant only for when you take your sleeping bag traveling with you, so it takes up the least amount of space.
What to know before storing sleeping bags?
Spot clean your sleeping bag after every trip. Dampen any dirty spots on the bag with water and rub a bit of laundry detergent in with your fingertips.
Hang your bag up for 24 hours to air it out after a trip. Hang your bag in an open, dry place where it can air out. This will get rid of any odors before storing it and make sure that it is completely dry.
Wash your bag in a front-loading machine if it smells bad or is super dirty. Please don't wash your sleeping bag after every trip, or it will lose its loft (the fluffiness that keeps you warm) due to excessive washing. Use warm water and mild laundry detergent and wash it gently.
Dry your bag on low-heat tumble dry if you machine-washed it. Grab the bag out of the washing machine and support its entire weight with your arms while you transfer it to the drying machine.
Sleeping Bag Storage Ideas
#1 Hanging from hooks
The ideal situation is to hang your sleeping bag from a hook. That's why there are attached loops on some sleeping bags. Air can flow freely around the bag, and the bag is not compressed at all.
If you have a storage room at home, put hooks on the wall for all your sleeping bags. It is also great for easy access.
Smartology garage storage hooks are made of premium solid and prominent steel, while the coating is made of sturdy PVC.
Sturdy design provides superior load-bearing capacity, allowing garage hooks to hold various tools firmly, including power tools, garden tools, shovel, weed eater, broom, ladder, bicycle, ropes, hoses, etc.
Comes in 10 wall-mounted double hooks with 5 Sizes and two extension cord organizers for hanging tools of different sizes and weights. These ten large heavy-duty utility hooks create more possibilities for organizing your bulk items and creating an efficient tool storage space.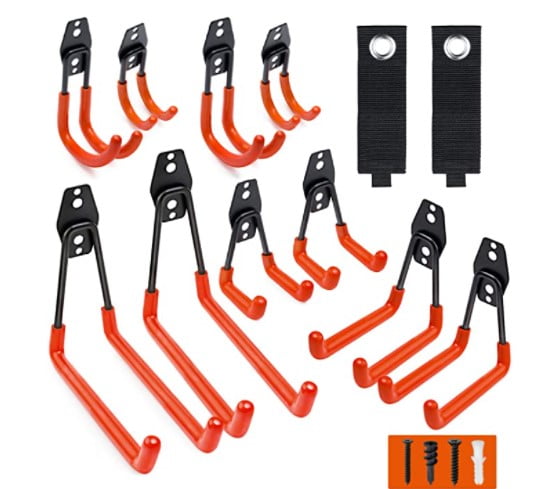 Features:
Heavy-Duty
Wall Mount
Alloy-Steel
#2 Put it on a closet shelf
Perhaps the best place to store your sleeping bag for long-term storage is in its mesh or cotton storage stuff sack on top of a shelf in your closet. Keep in mind sleeping bags do take up a lot of space in a closet while in storage.
#3 Place it under a bed
Alternatively, you can store your sleeping bag in its storage stuff sack under your bed. Doing so allows you to free up valuable closet space for your clothing and other belongings.
#4 In a cotton sack
You can store some of your sleeping bags in the back of a closet. If you are the crafty type, you can perfectly sew a large cotton sleeping bag for each of our largest bags.
The package contains four 100% Cotton Canvas extra large laundry bags. Bags measure 28×36. Drawstring cinch-top with cord lock for easy closing.
These extra-large laundry bags can be used for laundry, camping trips, storage, hamper liner, or as a perfect helper on moving day. Also, used as Santa Sacks.
Made from heavy-duty 100% cotton canvas for long wear and use. Easy care machine wash.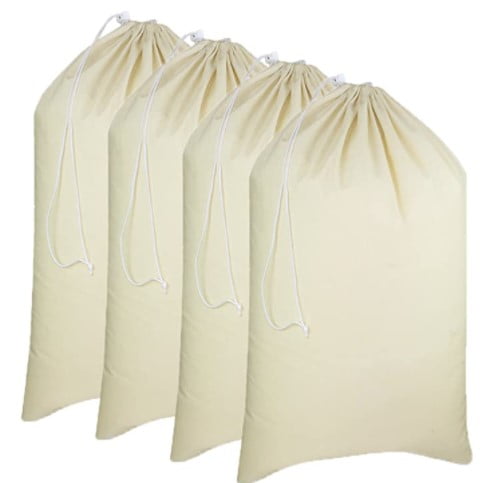 Features:
100% Cotton
Drawstring
Versatile
#5 In a plastic tub
If you have no other choice but to place your sleeping bag in the attic, then it is a good idea to put them inside a plastic container, as your sleeping bags will need extra protection. If you do this, be absolutely sure that the bags are dry and that there is not a speck of moisture in the tub.
Perfect for belts and scarves, accessories, craft supplies, canvas, fabric, office supplies, tools, small toys, LOL Surprise Dolls, Shopkins, Legos, and more.
Durable Rubbermaid Storage Containers are equipped with a stay-tight lid that protects contents from moisture, making them perfect for storing your dried food, rice, beans, and paper products in bulk.
Stacks without cracking or buckling. Built-in handles make these totes easy to carry and are designed to be storage tubs that last a lifetime.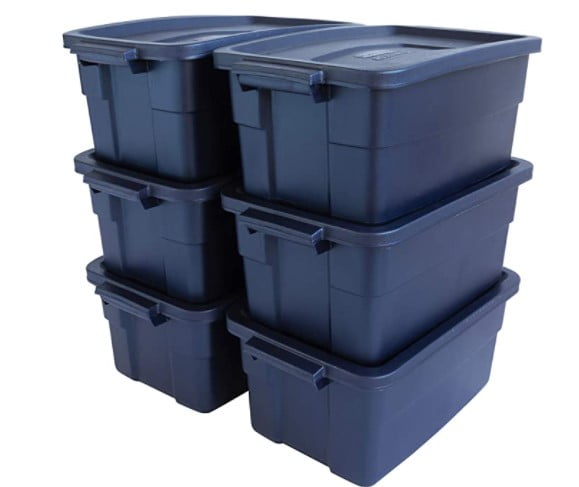 Features:
Rectangular
Resin
Heavy-Duty
Additional Ideas on Sleeping Bag Storage Ideas
Make sure your sleeping bag is completely dry before you store it. Never store a sleeping bag when it is wet or will start to mold.
Shake the sleeping bag vigorously to fluff it up before storing it. Hold the sleeping bag with both hands at one end and shake it in the air like you are putting a sheet on a bed.
Hang your sleeping bag in a dry closet or storage room if you have space. The ideal way to store a sleeping bag to get lots of airflows and isn't compressed at all is to hang it.
Layout your sleeping bag under a bed if you don't have closet space. This is another way to store a sleeping bag without compressing it.
Store the bag loosely in a breathable stuff sack if you have limited space. Sleeping bags often come with a larger cotton storage sack in addition to their compression sacks.
Now that you found out what to do with your sleeping bag, how about we tell you what to do with an old mattress?