Is your child Pokemon obsessed? We hear you. If your kid is always talking about Pokemon, some fellow named Pikachu says he wants to be a trainer and talks about 'catching them all'; then there's a good chance he is at that Pokemon stage. This is why today, we'll be sharing with you several awesome Pokemon gift ideas for kids.
There's a chance you may or may have not heard about Pokemon before, and the only thing you know is that your kid breathes, sleeps, and thinks Pokemon. If that's the case, do not panic because, with this guide, you'll learn everything you need to know about Pokemon and how you can surprise your kid with an amazing Pokemon gift.
With numerous options in the market, things may seem confusing, especially if you are new to Pokemon and have no idea where or what to look for. But before making an investment doing your due research is a sign that you are in the right direction. Keep scrolling down as we show you some of the coolest Pokemon gift ideas that your kid, daughter, niece, nephew, or boss' daughter's will absolutely love.
Pokemon Background
Pokémon is a Japanese franchise that has been around for more than 20 years. Short for "pocket monsters," Pokémon exists as a TV show, a trading card game, video games, and toys. The Pokémon themselves are creatures that live in the wild or with their owner (as in your kid), referred to as their trainer. The trainer's goal is to "catch them all," and, by all, we mean all 800+ of them.
15 Awesome Pokemon Gift Ideas Kids FAQs
Are there any Pokémon toys?
You just need to purchase some small Pokémon figures, and you're good to go. Children can re-enact Pokémon battles, the adventures of Ash and his friends, or leave it up to their imagination. There are endless amounts of play with this toy.
What Pokémon cards should I buy for my child?
Younger kids tend just to collect and trade the cards. They may also want to play the trading card game as they learn to read. The point of collecting the cards is to build a powerful deck of 60 that will help you win battles against other trainers.
Those shiny cards your kids probably want most are the Legendary Pokémon. They don't evolve and are some of the most powerful cards in the trading card game, and they're also only found in booster packs.
What are the different types of pokemon cards?
Character cards: Each Pokemon has a type (there are 11 in the trading card game), such as Fire, Water, Psychic, Metal, or Dragon. Each Pokémon card will also indicate how "evolved" the character is, whether it's in its basic form, Stage One form, or Stage Two form, in the upper left-hand corner.
Energy cards: These cards are needed to power your Pokémon throughout the game, and you'll always find basic Energy cards in any pack you buy. There are also Special Energy cards that give a different kind of boost, depending on your type of Pokémon.
Trainer Cards: These are cards you use for the items, supporters, and stadiums you can use during a battle. Any special rules on these cards are indicated at the bottom.
How to choose a Pokemon gift?
Category: There are different types of Pokémon toys, including building sets, plush toys, Pokeballs, and mini-figures. Decide on one category and then find relevant toys in that category.
Age: Pick toys as per the age of the child. For instance, if your child is too young, say three or four years old, then mini-figures or plush toys would be ideal. However, if the child is above six years old, then Pokeball and building sets would be appropriate.
Quality: The toys should be high-quality materials and not toxic or chemical substances. This way, the toys are durable and safe for children to play with.
Licensed: Look for licensed and quality products.
15 Awesome Pokemon Gift Ideas Kids
eKids Pikachu Walkie Talkies are ready for adventure! Featuring cool graphics inspired by the one and only Pikachu, these two-way radios also have kid-friendly, easy-to-use controls.
Send and receive messages with friends and family in a flash; these long-range walkie-talkies for kids work up to 500 feet! Great for playing both indoor and outdoor games, these Pokemon toys make an awesome gift for your little one!
Superb and colorful graphics featuring Pikachu character art will please any fan of Pokemon toys. Grab a friend and go on incredible adventures together using these kid-friendly two-way radios. The easy-to-use, kid-friendly controls make playtime a blast whether you play indoor or outdoor games.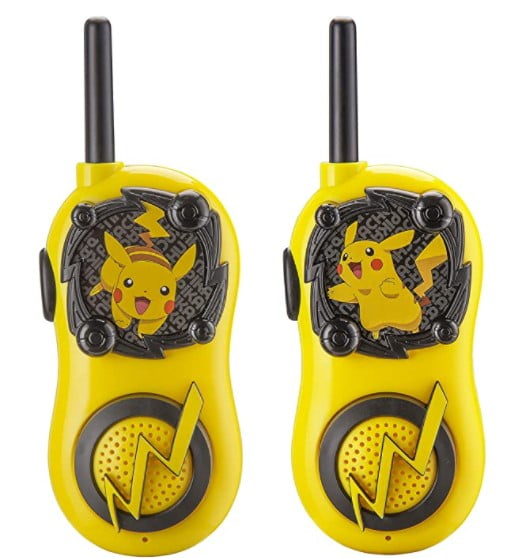 Features:
Kid-Friendly Controls
Long-Range
Two Way Radios
Get your kid a cool hat and make him feel unique with this Pokemon design that they will surely love.
This is a great quality hat, featuring bright colors, fantastic to make anyone stand out. It is suitable for everyday use, go around town.
It is fun, fast & fits well. Gave it as a gift and see how nicely it fits. It is made for an amazing picture and makes great memories. Perfect for the fashionista Pokemon fan.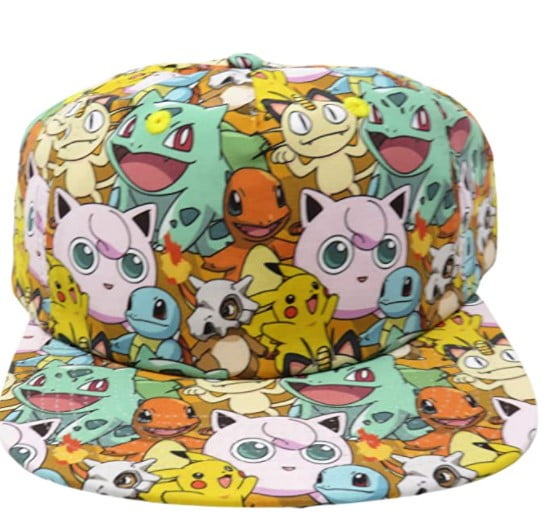 Features:
Snap closure
Snapback
One Size Fits Most
Discover the world of Pokémon and bring it with you wherever you go with the Pokémon Carry Case Playset!
With tons of features like abounding boulder, treetop trap door, battle area, hidden cave, spinning whirlpool, and more, the Pokémon World has never before been brought to life quite like this!
The Pokémon Carry Case Playset is scaled for any 2″ Pokémon figure and folds up easily into an iconic backpack! Gotta Catch' Em All! Suitable for ages four years and up.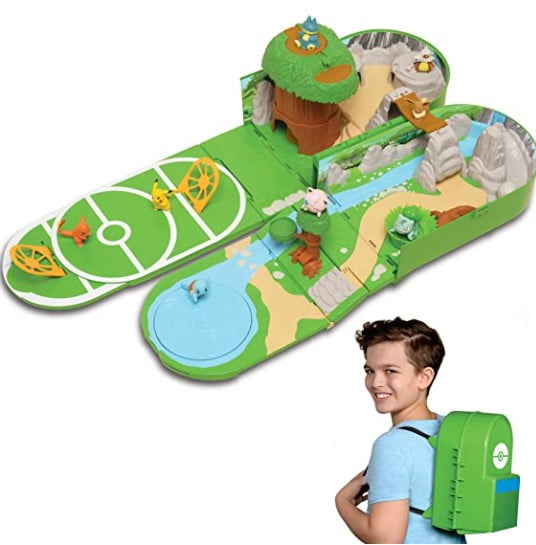 Features:
Plastic
Easily Folds
Multiple Locations
Soft and cuddly 4″ Pokémon Poké Ball Plush 5-Pack is a must-have for all Pokemon fans! Includes the Poke Ball, Ultra Ball, Master Ball, Quick Ball, and Luxury Ball.
This Pokéball plush is great for playing catch or just cuddling with! It also features a weighted bottom so it always lands right side up!
The Poke Ball plush toy is inspired by Pokémon anime, trading cards, Let's Go! Sword and Shield and Nintendo video games series! It makes an excellent gift for fans of Pokemon; your favorite Pokémon character is waiting for you!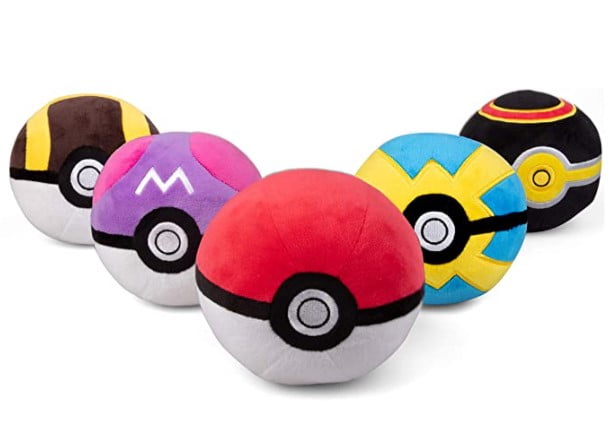 Features:
Nanoblocks fit together just like any other plastic building block sets – but as the name implies, they are much, much smaller.
Based on a scale from 1 to 5. 1 being the easiest and five being most advanced, you are able to find one to fit your skillset.
Venusaur from Nanoblock's Pokémon Collection series stands approximately 1.4″ tall and has 160 pieces. This is considered an entry-level kit. This kit features all the details one would expect and is fun and easy to build.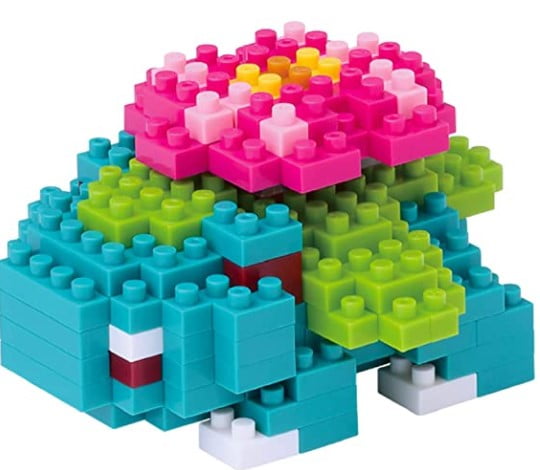 Features:
Logical Thinking
Plastic
160 Pieces
Turn into a Pokémon trainer and challenge your friends to a duel. How strong will your attack be when they launch into action?
All pops open with the push of a button, or you can toss the Poké Ball onto any hard surface; upon impact, it pops open, launching the Pokémon figure into battle.
It holds one Pokémon character and has a belt clip for easy access and portability. The whole process is engaging and fun as you discover a new Pokémon to add to your collection.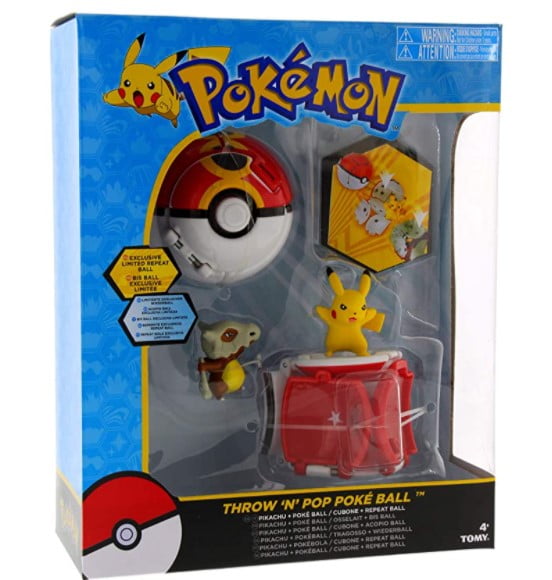 Features:
Want to any number of times savings, very cute healing piggy bank? "Pokemon" in familiar Pikachu is important to contact custody.
Coins enjoy the chatter pattern of 243 kinds in the voice of the same Pikachu anime!! Now, cuter than ever before, Japanese manufacturer SHINE decides to extend the variety to everyone's favorite mascot from the Pokemon series – Pikachu.
When you place a coin on top of his tiny Pokebox home, you'll hear pika pika~ Pikachu pika pika~ Pikachu when he takes the new shiny coin you've just given him!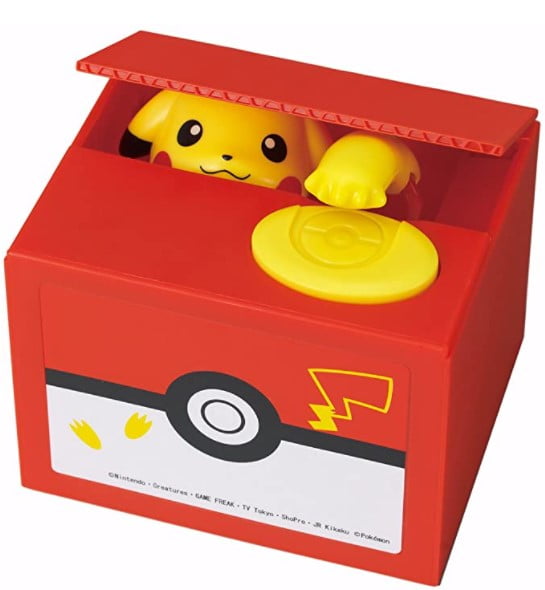 Features:
Limited Edition
4.3 x 4.3 x 5.1 inches
Now you can test your Pokémon knowledge with Pokémon trainer guess: Hoenn edition. Just think of a Pokémon and answer the questions.
Trainer guess will figure out what Pokémon you're thinking of, amazing! Use the included Hoenn region trainer field guide to "guess" all 100 Hoenn region Pokémon and add them to your electronic collection.
Speak your answers, using voice recognition Pokémon trainer guess will understand you, amazing!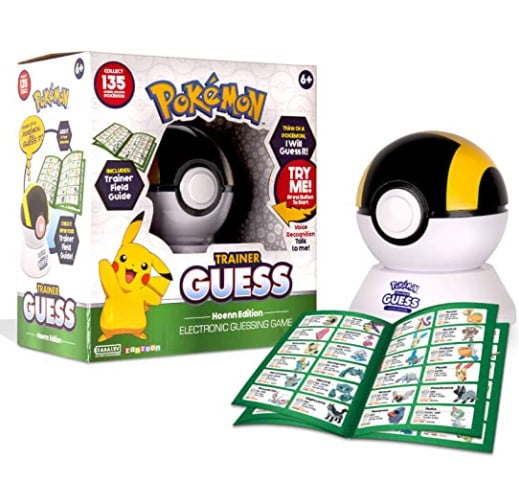 Features:
Electronic Game
Field Guide
From Pokémon is Bulbasaur as a stylized Pop! Vinyl figure.
The stylized collectible stands approximately 2.75 inches tall, perfect for any Pokémon fan!
Your dream of becoming a Trainer is not out of reach! Catch this Pop! of Bulbasaur to add to your Pokémon collection. Catch 'em all!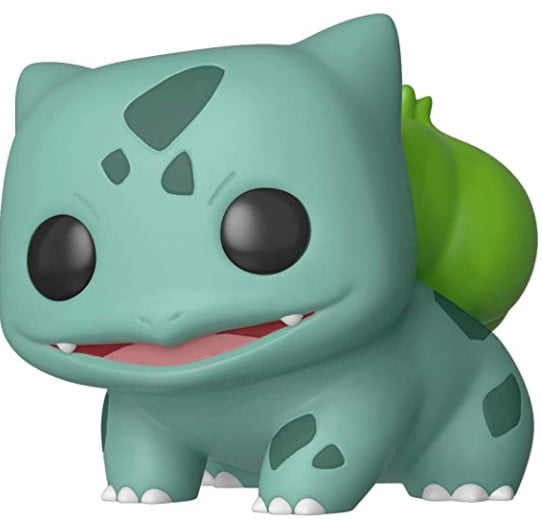 Features:
Vinyl
Multicolor
2 x 3 x 4 inches
The Deluxe Collector Mewtwo Figure is here. Featuring powerful Psychic blast light effects, a 1/10th scale, and an unrivaled level of detail, the Legendary Psychic-type has never looked quite as awesome as this.
This Deluxe Collector Figure comes with one dynamically posed figure attached to a base. Press the Poké Ball button at the figure's base and watch Mewtwo's Psychic blast pulse with energy. Gotta Catch' Em All!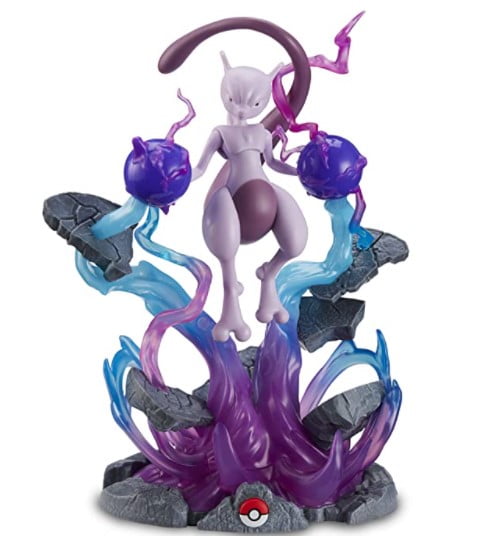 Features:
13-Inch Mewtwo Figure
Highly Detailed
Glowing Lights
Gyarados rise from the depths with this buildable Pokemon! Its fierce temper and intimidating attacks take a true Trainer to battle a Pokemon like Gyarados.
Now, build your very own Gyarados when you assemble this 9-inch Pokemon, complete with an articulated body and iconic fins, fangs, and spikes.
Pose Gyarados in its Water-type environment alongside the mini Ultra Ball, and get ready to rise from the depths with this powerful Pokemon! Ideal for ages eight and up.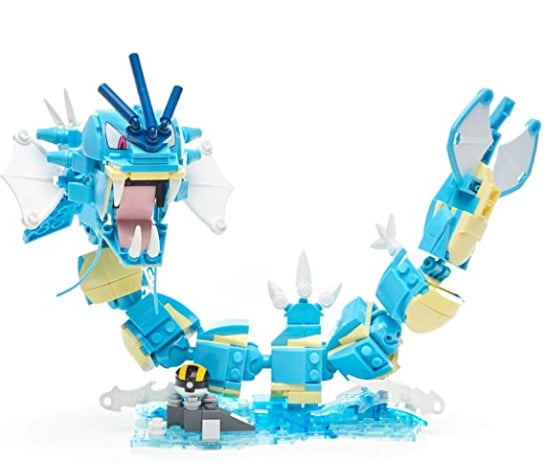 Features:
Water-type Environment
Team Building Skills
Eight years and up
Grow your Pokemon collection with this Electric-type Pokemon that packs a powerful electric blast. Pop! Pikachu!
From Pokemon is Pikachu waving as a stylized Pop! Vinyl figure from Funko! The figure stands 3.75 inches and comes in a window display box. Check out the other Pokemon figures from Funko! Collect them all!
Stylized collectible stands approximately 3.75 inches tall, perfect for any Pokemon fan!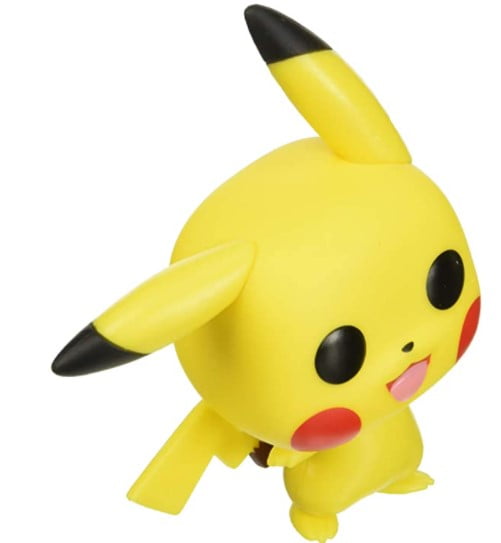 Features:
Multicolor
Collectible
Vinyl
Prepare for a Pokémon battle with the ready-to-play Pokémon Trading Card Game Battle Academy! The Battle Academy includes everything two players need to play, with guides to the decks, so your first game is easy to follow.
You can choose Charizard or Pikachu to lead your team in a heads-up battle against another Trainer.
Then, switch up the decks to play Mewtwo against Charizard or Pikachu, and lead a different team of Pokémon into the arena! With a little strategy and a little luck, you can battle with the best!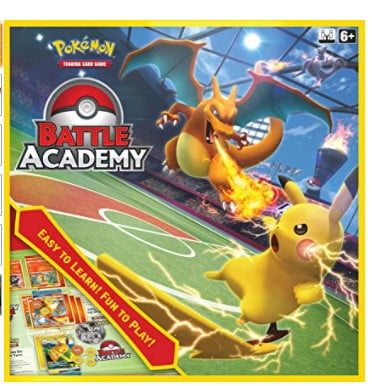 Features:
Mixed Colours
Strategy
Card Game
Test your Pokémon trainer knowledge with trainer guess Ash's adventures edition. Just think of a Pokémon and answer the questions. Trainer guess will figure out what Pokémon you are thinking of.
Once a Pokémon has guessed, it goes into your electronic collection, with 150 Pokémon, that Ash and his friends met during their adventures from Kanto to Alola, to collect all of them.
The enclosed trainer field guide includes pictures of all the Pokémon, key details, and names to help you in your quest.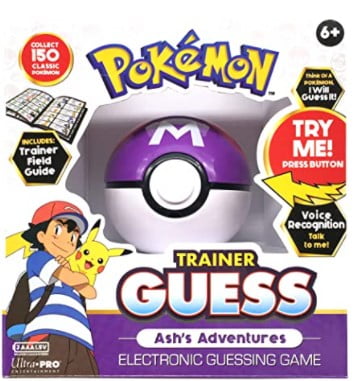 Features:
Portable
Voice Recognition
Play Indoors or out
Get ready to become a Pokémon trainer with this Clip 'n' Carry Poké Ball belt. Trainers can prepare for their next battle.
Carrying all of your Pokémon around can get exhausting, but with the Pokémon Clip N Carry Poké Ball Belt, you'll be ready to go anywhere.
The official belt for amateur and professional trainers, this accessory comes with a 2″ Pikachu figure, a standard Poké Ball, and a Grass-Type Nest Ball to help you catch any new Pokémon you find.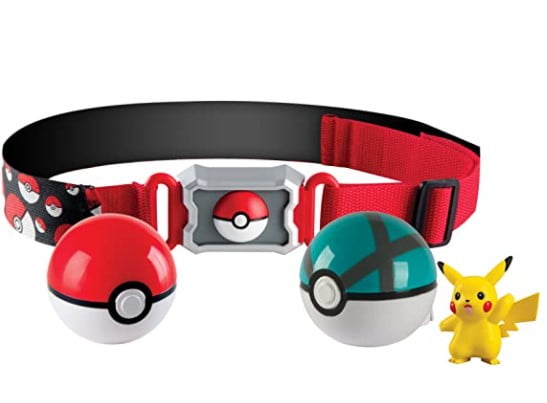 Features:
100% polyester fiber
2 Poké Balls
For ages four and up
Pokemon is a great gift, mostly for boys. What about girls? Read about the Best Books for 7-Year-Old Girls.