Are you looking for cool and modern bathroom ideas for your teenage girl? We hear you. So perhaps it is time to surprise your daughter by remodeling her bathroom decor, now that she is going from girl to teenager. Your teen has probably reached a stage where a more modern and cool style would be the perfect touch for her personal space. This is why today, we'll be sharing with you ten teenage girl bathroom ideas.
Like any parent, you probably feel intimidated by your teen as this is an important stage in their life. It is no secret that teens can have a unique and specific taste, but also one that is always changing. If you have no clue where to start when it comes to decorating your teen's bathroom, you are in the right place.
As a first step, you certainly need to take your teen's input and go from there; you also need not take it so seriously. Teens are fun, and you both can have a lot of fun making this project come alive and working together. Keep scrolling down as we show you some of the coolest teenage girl bathroom ideas that your daughter will love.
 Teenage Girl Bathroom Ideas FAQs
How do I decorate my teen bathroom?
Add your teenager's favorite decor such as artwork, plants, pottery, etc. You can boost the aesthetic of their bathroom by adding coordinated rugs, toothbrush holders, and soap dispensers. For an eye-popping touch, you can even paint the frame of their vanity mirror below the lighting.
How can I make my bathroom more feminine?
You can try matching several pastels or use one color. Pink tones are the classic option, and, in many cases, they're perfect for the job. Try out other colors too, such as ocher or pistachio. Pastel colors are essential to achieve a feminine look for a bathroom.
What elements of a teen bathroom interior should you keep in mind?
Window Treatments and Walls
The first thing you'll want to do is start with the walls and windows. Will you be applying a fresh set of paint or wallpaper? Do your windows need blinds, shades, or curtains? Pick a color that aligns with your teenager's color preferences if using a paint color.
Organization
Depending on your teenager, organization and storage could rank high or low on their list. You can buy storage containers for their makeup, toiletries, and other hygiene items for teenage girls. Keep items in reach, such as hand towels, lotions, and hair care devices.
Shower Curtains and Linens
Let your teenager pick out their shower curtains that go with their theme or color scheme. This could be neutral colors, dark shades of blue, green, sports themes, music, etc. Some show curtains now even have storage pockets that can hold body washes and shampoo. Also, don't forget to match body towels and hand towels of the same color.
Light and other Accessories
You can now replace dull lighting fixtures with modern designs or chandeliers. Add your teenager's favorite decor such as artwork, plants, pottery, etc. You can boost the aesthetic of their bathroom by adding coordinated rugs, toothbrush holders, and soap dispensers. For an eye-popping touch, you can even paint the frame of their vanity mirror below the lighting.
How to choose a mirror for the girl's bathroom?
A mirror is an essential element in every bathroom. The range of mirrors of various shapes, types, and sizes is impressive. By type, you can choose:
Wall-mounted mirrors. They are hung on the wall and can be with or without a frame.
Combined mirrors with a shelf for bath accessories. Usually, it is a very practical solution.
Built-in mirrors. These mirrors are mounted on the wall.
Cosmetic mirrors. They can change the angle of inclination and are equipped with a zone of increased reflection. It is an indispensable accessory for makeup.
 Teenage Girl Bathroom Ideas
#1 Pink and Green Wallpaper
If your girl likes to change the bathroom's style once in a while, one of the best girl bathroom ideas is to install wallpaper.
There are many reasons why. First and foremost, wallpaper is easily changeable. Second, wallpaper has many options when it comes to motifs and patterns. And third, wallpaper is a lot less inexpensive than remodeling. This example here shows how appealing a bathroom can be with full-size wallpaper.
Reminiscent of Miami Beach's Art Deco movement, this pastel pink, and green tropical removable wallpaper print is brimming with palm beach charm, a perfect choice for creating a true botanical retreat.
Ready to use, mess-free, self-adhesive wallpaper. No pastes or glues are needed, and no residue is left behind.
Great for accent walls or the entire room. Other popular applications include covering furniture, drawers, bookcases, stair risers, and more. Perfect as bathroom wallpaper and for kitchen applications.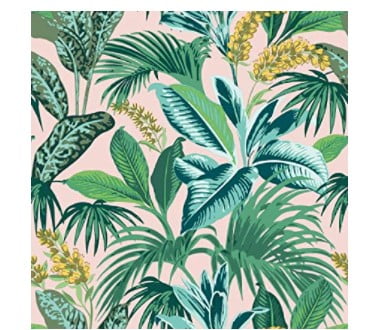 Features:
Peel & Stick
Seamless Line-up
Steam Resistant
#2 Simply Curtain Bathroom
Make the girl's bathroom gorgeous by adding a beautifully embroidered shower curtain. This small yet impactful touch makes the small bathroom gorgeous.
There are also motifs and patterns on the floor, adding an appealing visual statement that prevents the space from looking too plain and boring.
This pretty shower curtain is designed with a gradient of pink and black, and the bold addition of gold geometric lines makes the entire shower curtain beautiful and elegant.
The tight weave fabric and the polyester yarns of superior quality provide this fabric shower curtain with a firm, smooth texture.
This waterproof shower curtain technique used NEW water-repellency resistant coating, European standard grade 5 waterproof. Drops of water fell like pearls.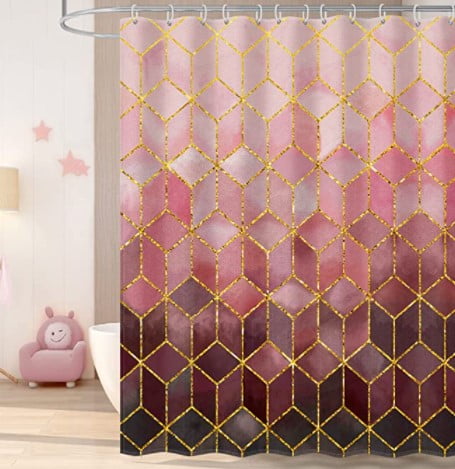 Features:
Polyester
Geometric
Pink Ombre
#3 Vintage Girl Bathroom
If your teen girl is a vintage fan, you can accentuate her bathroom by adding vintage-inspired art.
This tin sign vintage decorative painting is manufactured with folded edges for safety and stability. It is suitable for many places, such as bars, cafes, dining rooms, billiard houses, hotels, club wall decoration, creating a contracted but fashionable atmosphere.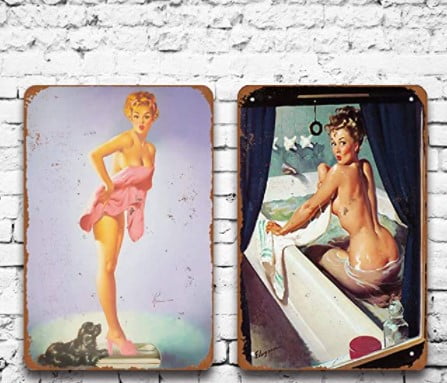 Features:
#4 Modern Mirror Bathroom
Start with something unique. A mirror is essential when decorating a bathroom, but your teen needs not just any mirror. Add a modern one, perhaps one that includes lighting or a unique shape.
Acrylic wrapped light strip, no exposed, light strip! Make the mirror more stylish and modern and greatly improve the waterproof and safety level.
With a high-density 120LEDs/m light strip, this mirror has ultra-bright LED backlighting. CRI 90+ brings high-definition imaging.
This LED-backlit mirror light is dimmable controlled with a power switch. Simply touch the power switch button for 3 seconds to change light intensity from normal to brightest.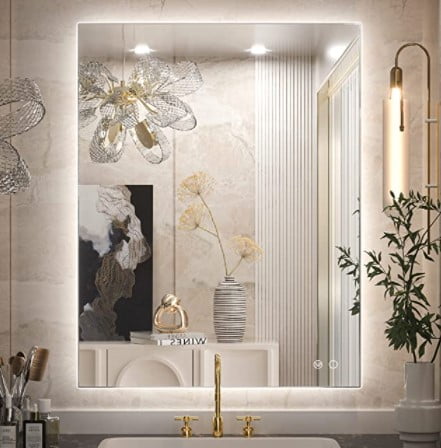 Features:
#5 Girly Touch
One of the differences between children's and teenagers' bathrooms is the color palette. While little girl bathroom décor ideas often involve bold and bright primary colors, teenage girl bathroom décor ideas are a lot subtler, with many kinds of colors involved.
This 8-Piece Bathroom Accessory Set is made of PP+Plating, its durability and not easy to break like a ceramic set, not easy to mildew like the bamboo set.
This bathroom accessories set is lightweight, nonslip, and durable, vital to toiletries. The lid adopts a transparent design, which can clearly see whether the trash is full for timely disposal.
Bathroom accessory sets are skillfully finished in glossy white color; cleaning them is a breeze.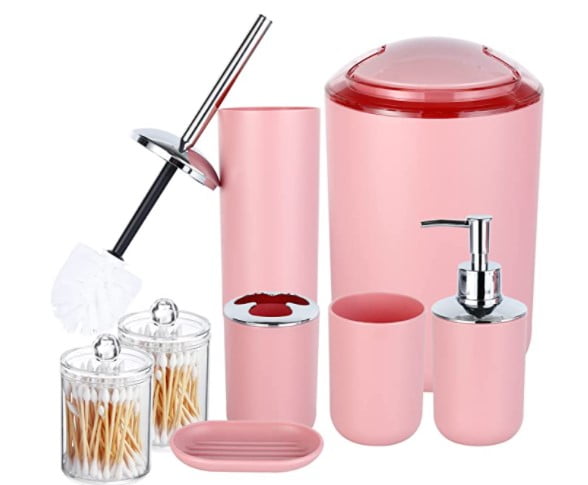 Features:
Lightweight
Nonslip
Premium Material
#6 Modern with Vibrant Red
Bring style to the bathroom with modern touches and vibrant red. The modern touches make the room look sophisticated, while the red shows the style. Suffice to say, it is an eye-catching bathroom, alright.
High-definition graphic design printed with advanced non-fading technology. Simple dark red floral theme printing is suitable for every bathroom for bathroom decor.
Classic red flowers shower curtains for bathroom decor sets can be for women, men, friends, family even yourself as a gift or a great bathroom decoration. Prevent the water spill out of the bathtub or shower room while having pretty decorations.
They are made of upgraded and high-quality polyester and soft flannel, which are waterproof, anti-slip, durable, hygienic, safe, and eco-friendly. Aesthetic rose shower curtain and mat sets have no chemical odor.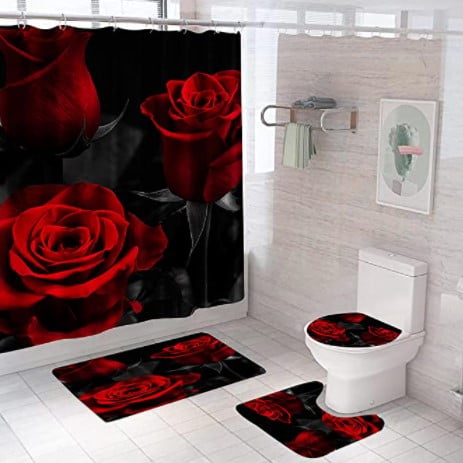 Features:
Polyester
Rose Desing
Eco-friendly Material
#7 Pottery Barn Girls Bathroom
You can also opt for something much less complex and intricate. That's right. A minimalist bathroom, though. It is a minimalist bathroom with a romantic twist. The beauty of minimalist décor is that a room can look good with fewer things.
A beautiful ornament and wall decor add a touch of individuality to your home decor with its stunning effect, creating a homely.
Suitable for living room decor, bedroom decor, bathroom decor, kitchen decor, home decor, fashion room decor, office decor.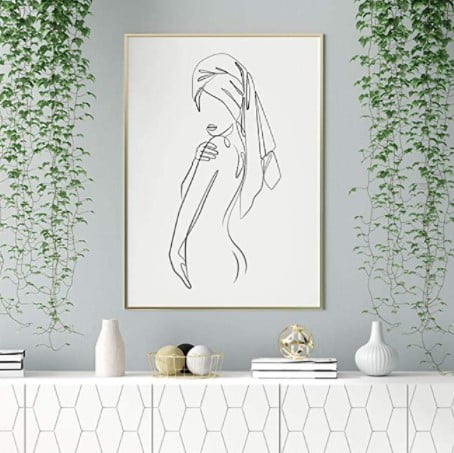 Features:
#8 Vibrant Pink
The pink color is so vibrant and turns the focus of the bathroom. It keeps the playfulness and fun of the pink color while looking more mature at the same time.
Ambesonne shower curtains are made of reinforced stitching. Reinforced stitch (also known as overlock stitch) sews over the edge of one or two pieces of cloth for edging, hemming, or seaming.
These shower curtains come with included plastic hooks for affixing the shower curtain to the rod. These modern shower curtain patterns are so vibrant in color and print that they will be your new source of joy during your daily washroom chores.
The high-tech printing technique we use ensures our prints will be carrying the crown in your bathrooms for a very long time.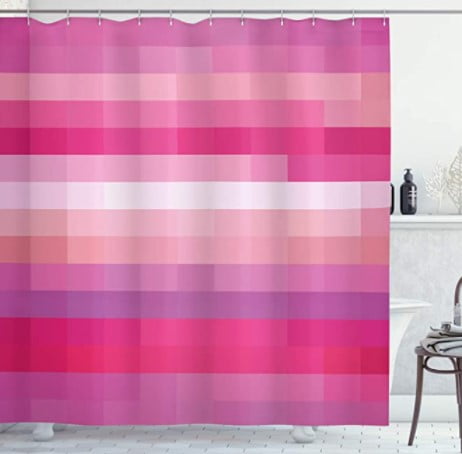 Features:
Cloth Fabric
Set with Hooks
Polyester
#9 Compact Bathroom
If you have limited space, you can stack things vertically. This way, the attention is moved away from the narrow space and into the stacked decorations.
The four-sided bracket is made of high-quality carbon steel. The 3 Baskets are made of Hard ABS. The metal tubular frame structure can support 20kg capacity for each basket (Total supports overall 60kg), it is easy to hold various household items.
This rolling cart is a 3-tier design, but the height can be adjusted; you could change a 2 tier or 3 tier cart.
This utility cart is equipped with 4PCS premium rubber wheels (2PCS can be lockable), which are strong and smooth to move the cart. And the handle's arc design makes this utility cart convenient to use.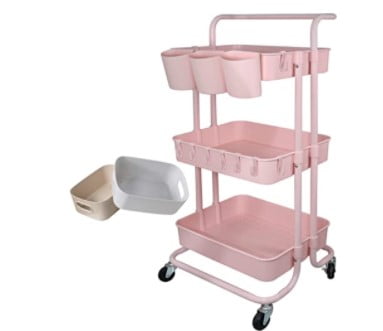 Features:
Bracket Shelf
Stable Structure
Quality Materials
#10 Flowers All-Around
Either you use floral wallpaper or a floral curtain design; this makes an interesting statement and adds a subtle feminine touch.
This rustic flower shower curtain is designed with blooming flowers, is made of waterproof polyester fabric, the material is eco-friendly. Vintage style is suitable to decorate the bathroom.
It expresses rustic girly pink flowers, green leaves, elegant retro theme. It is machine washable in cold water, low tumble dry.
Features:
Rustic
Waterproof
Polyester
Additional Tips Teenage Girl Bathroom Ideas
Shower accessories are all sorts of shelves, supports, anti-slip rugs, dispensers for gels and soaps, sponges, headrests. Choose bright colors for girls' bathrooms.
Desktop teen bathroom sets are laid out on countertops, consoles, washbasins and include a few accessories: a soapbox, a liquid soap dispenser, a glass for toothbrushes, and cosmetics.
Wall collections usually have the most significant number of elements that can be attached to the teenage girl's bathroom walls. These are holders of towels and paper, various shelves, hooks, soapboxes.
Bathroom textiles are bath and shower blinds, fabric rugs. In this area, the imagination of designers is limitless. The market offers a great variety of colors and textures that will make any teen bathroom unique.