Is your toddler into cars? We hear you! So your child has shown an interest in toy cars, and what do you do? That's right, of course, you need to get him the best remote-controlled car you can find. This is precisely what we'll be sharing with you today, some of the best remote-controlled cars for 4-year-old and more.
Remote-controlled cars for 4-year-olds are a great way to encourage and support your child's imagination. Remote-controlled cars also make for great birthday gifts, so you can make your child, nephew, or little cousin very happy. We all know how important it is to engage children in different activities, which is excellent for their health and development and keeps them focused, disciplined, and entertained.
If you are currently searching for the best remote-controlled car for 4-year-old, you are in the right place. Below we'll be sharing with you some of the best options currently available in the market; with so many choices, sometimes picking the right car for your kid may seem a bit confusing. Keep scrolling down as we show you some of the best remote-controlled cars for a 4-year-old for your consideration.
Remote Controlled Car for 4 Year Old FAQs
At what age do kids like remote control cars?
Remote control cars can be used at almost any age, with cars made especially for kids as young as three years old.
Why allow toddlers to play with a remote control car?
Your child learns a lot from racing and crashing a remote control car. These vehicles teach young children about fine motor skills and cognitive development. They know to use their mind with their hands, move an object in different directions, and cause and effect.
RC vehicles also introduce toddlers to STEM (Science, Technology, Engineering, and Math) concepts, such as motion, speed, and experimentation ("What happens if I tell my car to drive over rocks?") Plus, they are fun.
Can a 4-year-old use a remote control car?
Many remote-controlled cars are easy to use, so even children as young as two years old can drive. Best of all, it makes honking sounds and has flashing headlights. It'll feel like a rush-hour every freaking day at your house.
How long does a remote control car battery normally last?
This varies depending on the vehicle, its features, and the type of battery it uses. On average, a fully charged or new battery will last for about 15 to 20 minutes of consecutive play.
What are the key features to consider when buying an RC for a toddler?
Think about your child's age, how they might use the car, and what features will intrigue them. Do you want a vehicle with speed? Will sounds and lights attract your toddler or scare them? Do you want a vehicle in one piece or with many parts?
Will more than one child be playing with more than one car simultaneously; if so, make sure the vehicle offers a second frequency.
Would you prefer a car with rechargeable batteries? Considering these things before buying the RC will help your child enjoy the vehicle more when they get it.
The best RC cars for 4-year-olds will be cars that have soft edges and antennas as well as basic, simple, and easy-to-use controllers.
What safety guidelines should you be aware of when using remote control cars?
Remember that your child will be chasing the remote control car, so be sure they are supervised and in a clear area away from things they can fall on or break.
This is a toy with a motor and batteries, so be sure that these things are not exposed to your young child.
Many of these vehicles have several detachable parts, which could become a choking hazard, so again, supervise your child as they play.
It is a good idea to avoid pets when your child plays with a remote control car, as they might aggravate your cat or dog.
Remote Controlled Car for 4 Year Old
With the attractive shape and brilliant color, mini RC vehicles are the excellent Introduction to RC Toys for Young Children and Toddlers.
Toy trucks have four channels to run. Forward, back, left turn, right turn, develop kids imagination.
Mini remote control cars are made of high quality and durable material. The car will not be damaged easily due to collision and falling. It's very convenient for kids to take it anywhere.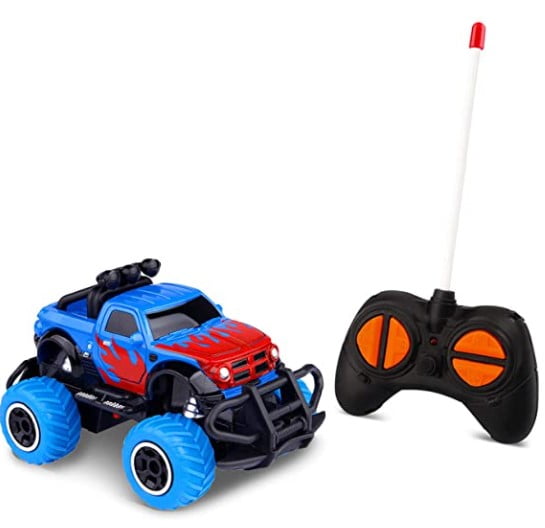 Features:
Battery Powered
Easy Control
Lightweight
1/28 scale small size, stable, It maneuvers in any direction in just seconds with its miniature, sleek remote which is made to fit both children's et adults' hands.
Off-road RC vehicle features a 2.4GHz transmitter for smooth & no interference control. But please pair each car and remote separately, then you can play with multiple cars together without interference.
Double sides are running, forward, backward, turning left, turning right, 360-degree tumbling flipping. Give you a different experience. Active The car first, then the remote, so that they will work in the same frequency. If not, the indicator light blinks.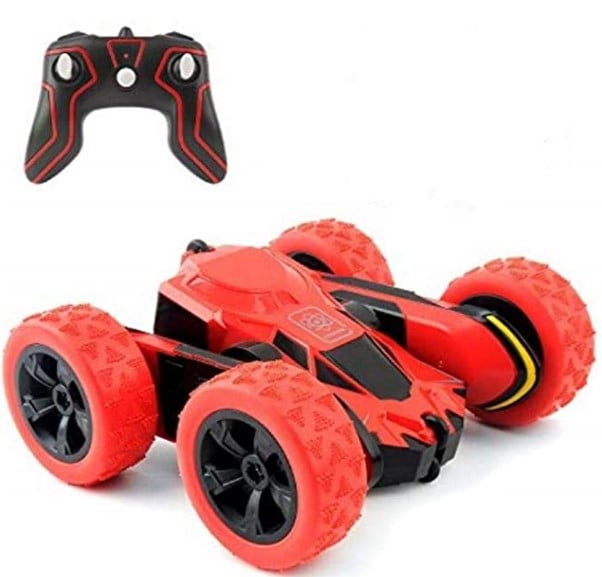 Features:
Battery Powered
360 Degree Spins and Flips
Soft Material Protection
Compared with the traditional yellow dump truck, we have upgraded the color, which is different from others; our black RC construction dump truck looks more relaxed and realistic.
Excellent for kids' role-playing games and perfect for sandpits. This RC dump truck is four-wheel drive with powerful motors.
Go forward / backward; turn left / right; Dump bed up and down. Excellent for carrying sand/gravel/soil and running. It is a perfect construction toy for 3 4 5 6 7 8 years old kids boys.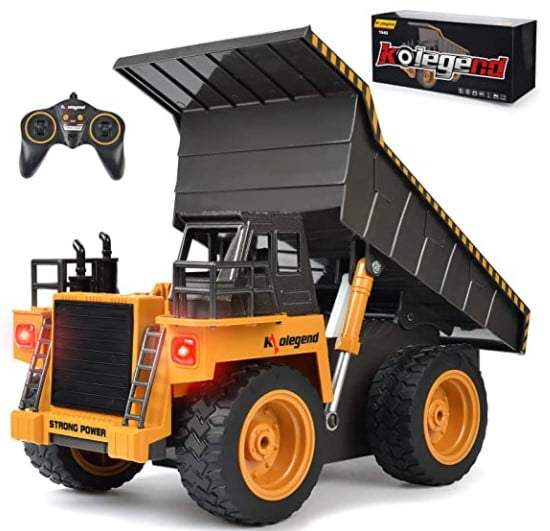 Features:
Battery Powered
Plastic, Metal
2.4Ghz Radio Control
Made of environmentally-friendly ABS material, it can rotate both clockwise and counterclockwise for easy car assembly.
Cooperate with the wrench to tighten the screw. Great DIY car to play with friends. Removable screws and car parts on the body and wheels of the truck allow quick and straightforward installation.
Each screw has a snap-fit position for easy installation and removal. Improve any child's concentration and fine hand coordination while teaching them the basics of car parts.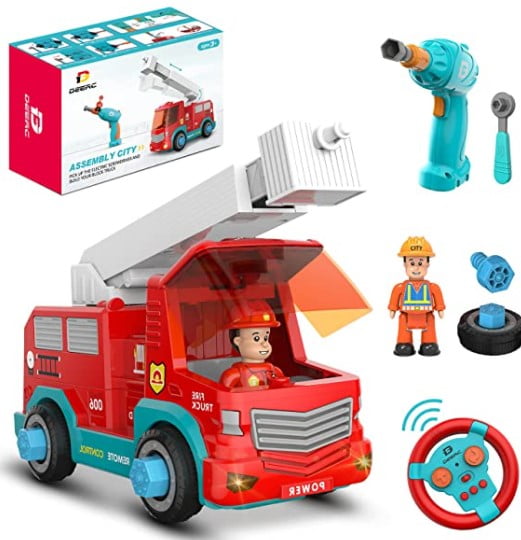 Features:
Novel Toy Combination
Easy to Install
Realistic Sounds
Stunt Car comes with a USB charger, and it takes only 1.5 hours to fully charge, while other stunt cars in the market take 3 to 5 hours.
The car's battery provides up to 25-30 minutes of playtime, while others offer only about 5-10 minutes of playtime.
The RC stunt car comes with music ON/OFF switch for a quiet play option, while others are loud and noisy!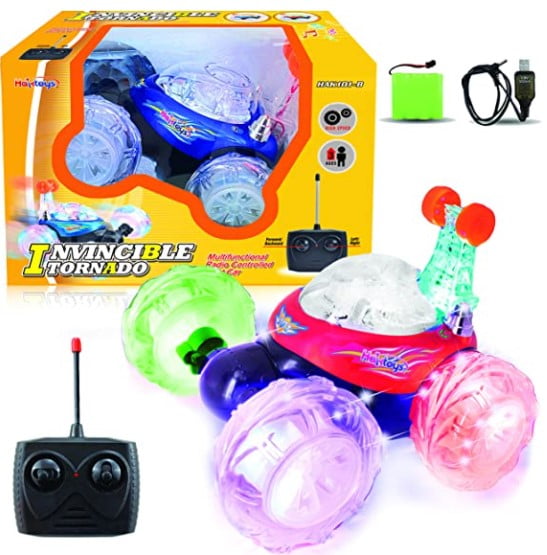 Features:
Safe Antena Desing
Longer Playtime
Battery Powered
Forward, back, left turn, right turn. This car has double sides running and can do 360-degree stunt flip rotation spinning. Quickly overcomes all obstacles.
High-quality plastic, firm and durable car body, more ruggedness, and crashworthiness. The tires are made of rubber, easy to overcome any outdoor condition.
2.4Ghz High Specific Frequency: Long control distance, good anti-jamming capability, suitable for more cars playing simultaneously with Mutual interference prevention.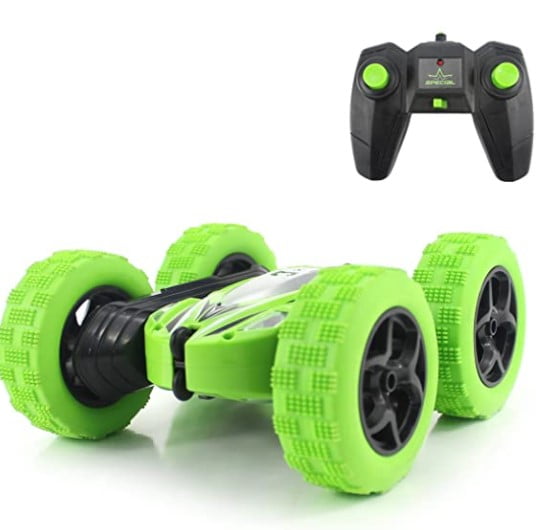 Features:
High Speed
Plastic, Rubber
Battery Powered
If you are looking for a great tour for your youngest one, check out this Vtech Toys for 2 Year Olds guide.